Contests
Even though EXODE is still in alpha, there have already been a number of really enjoyable contests with great prizes.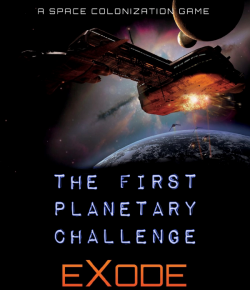 The First Planetary Challenge was an official contest run by exodenews (khazrakh & balticbadger). The goal was to create an imaginary deck for a specific planet . Prizes included a Tom Settlers Essential Pack (1st); 5 Booster Packs (2nd); 3 Booster Packs (3rd) and secret rewards of a Booster Pack for 3 Captains and a WHC Unit card for 15 Captains. The full results can be seen here with links to the top four entries.
The Baldie Challenge was the second Planetary Challenge, another official contest run by exodenews (khazrakh & balticbadger). The goal was to create a deck of your own cards (in the EXODE Launcher) using a Baldie starship and able to survive for 90 days in one of three locations – a water planet, a moon with an abandoned alien base or an asteroid riddled with mysterious tunnels. There were a number of events planned for each location and builds were tested against the events for their location.
What was amazing was that there was a series of daily posts which detailed the journey of each crew. Each daily post covered another 15 days of the journey and awarded survivors increasingly valuable prizes (a common, a common, a rare, an epic, a booster pack, two booster packs). The stories were awesome with the best moment being one crew attempting to tiptoe through a minefield – only to find that the mines were mobile and target-seeking.
The winners of each location also got two additional booster packs and the overall winner got a legendary Vanguard. The final results can be seen here including some extra surprise prizes of certificates and Hive NFTs (non-fungible tokens) for the winners of each location. Khazrakh also wrote up a backstage tour of the challenge which included links to all of the stories.
The Federal Database Challenge was an unofficial challenge run by digital-wisdom. The gist of the contest was that each match pitted two players against each other - - a "keeper" who had a Federal Database and had to keep it long enough to decrypt and access its Secret Datacore and a "grabber" who had to simply take the Federal Database away from the keeper before the Secret Datacore was accessed. Each of the 10 keepers was pitted against each of the 5 grabbers and a winner (or co-winners) declared for each category based upon their records. Players were allowed any cards that they desired and each card was considered fully upgraded.
Once again, there was a series of daily posts with each detailing the battles of one keeper against all five of the grabbers. Results were posted here with the prizes of Azumi & Black Lotus (grabber winner/keeper co-winner/1st place); choice of Ayumi or Black Lotus (keeper co-winner); epic Octohome and rares Security Drone and Tom Little Buddy (2nd); epic Federal Database and rare Programmed Transactor (3rd) and participation prizes of a booster pack for all remaining Captains. The (co-)winners also got certificates and Hive NFTs like those of the winners of the Baldie Challenge.
Digital-wisdom also wrote a backstage tour which contained links to all of the entries and all of the daily battle posts.
---
Keep your eyes on the Hive EXODE Pilots Community as both exodenews and digital-wisdom have promised that more contests will be appearing there in the very near future.